The Lakeside Villas at Crittenden Estate have been recognised by HotelsCombined.com as one of the best places to stay on a vineyard. See article below…
https://www.hotelscombined.com/news/wine-tasting-in-australia/
Mornington Peninsula
At only an hour's drive from downtown Melbourne, Mornington Peninsula has been the city's choice summer getaway since the 1870s. Visitors to this rugged maritime region can enjoy some of the best cool climate wine tasting in Australia. Over 200 vineyards operate here, many specializing in the region's fresh, fruity pinot noir. Chardonnay makes a pretty strong showing too, with local wineries like Mediterranean-loving Montalto Vineyard & Olive Grove raking in the awards.
Swooshing out toward the Bass Strait, Mornington Peninsula offers more than just great wine. Families will love the cozy, kid-friendly beach villages that line the region's Port Philip Bay side. Meanwhile, walking enthusiasts are in for a treat along the peninsula's outer side, with abundant gorgeous coastal rambling along Mornington Peninsula National Park and spectacular trails like Two Bays Walking Track. It's the perfect experience to gush about while you take a dip in open-air thermal pools like Peninsula Hot Springs.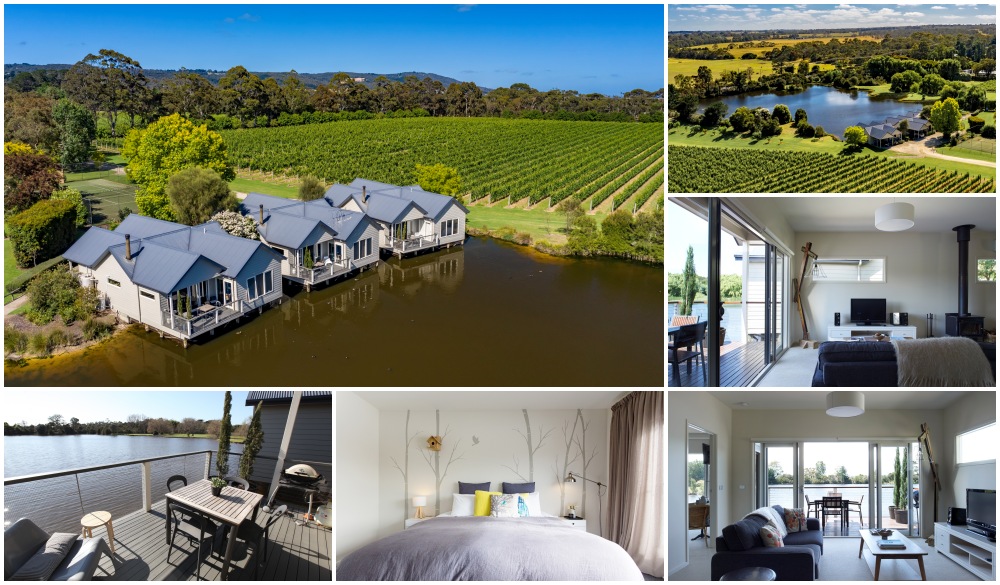 Photo|Lakeside Villas at Crittenden Estate|Provided by LAKESIDE VILLAS AT CRITTENDEN ESTATE
Lakeside Villas provides cozy self-serviced accommodation in the heart of the Mornington Peninsula. A great choice if you're traveling with kids, all three villas can be adapted to accommodate up to four people. Meanwhile, great swimming beaches like those at Rosebud are just a short drive away. Rustic touches to the accommodation, like real wood-burning fireplaces, create a romantic setting for an evening glass of red. The villas also feature deep soaking tubs and balconies overlooking a private lake — making Lakeside a perfect weekend escape.
Recommended local wineries:
Trofeo Estate. Cellar door and table tastings paired with modern Australian fare (1.3 kilometers)
Hickinbotham of Dromana. Rustic experience that also serves homebrewed beer (3.0 kilometers)
Foxeys Hangout. Charming hangout known for its sparkling shiraz and tapas (3.6 kilometers)
Star Rating: 4.5*
Price: USD 291 – USD 338
Guest Rating: 9.0
Address: 25 Harrisons Rd, Dromana VIC 3936, Australia